Conference Season is here!
Conference Season has arrived and staff at Westcoast have already had the privilege of attending, speaking and hosting tables at three conferences this spring.
First up was the annual ECEBC conference at the Hyatt Regency in downtown Vancouver. This year's conference, which took place April 10-13, celebrates 50 glorious years of ECEBC supporting the early childhood sector. 6 WCCRC staff members attended the conference this year, experiencing a range of inspirational speeches and presentations. Sandy Yip, our Child Care Services Consultant says: "When we had more than 700 passionate, strong and motivated people from all over the world coming together in a conference room, one can definitely feel the power and the positive energy that filled the air. I was thankful to be part of it at the ECEBC 50th Anniversary Conference this year. The joy of seeing familiar faces and the curiosity of meeting new friends always warms my heart. Listening to different keynote speakers sharing their perspectives of how to move Early Care and Learning forward was very inspiring! The richness of the workshops bring freshness to current programs and encouraged participants to challenge themselves. When I sewed the button on the "ECEBC 50 Quilt", I felt connected to the people who sewed all the pieces together, what a marvelous way to display such beautiful work!"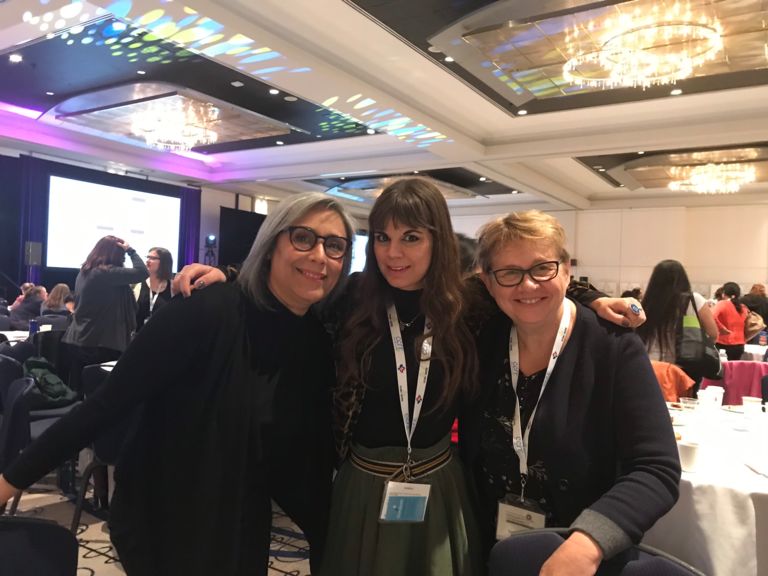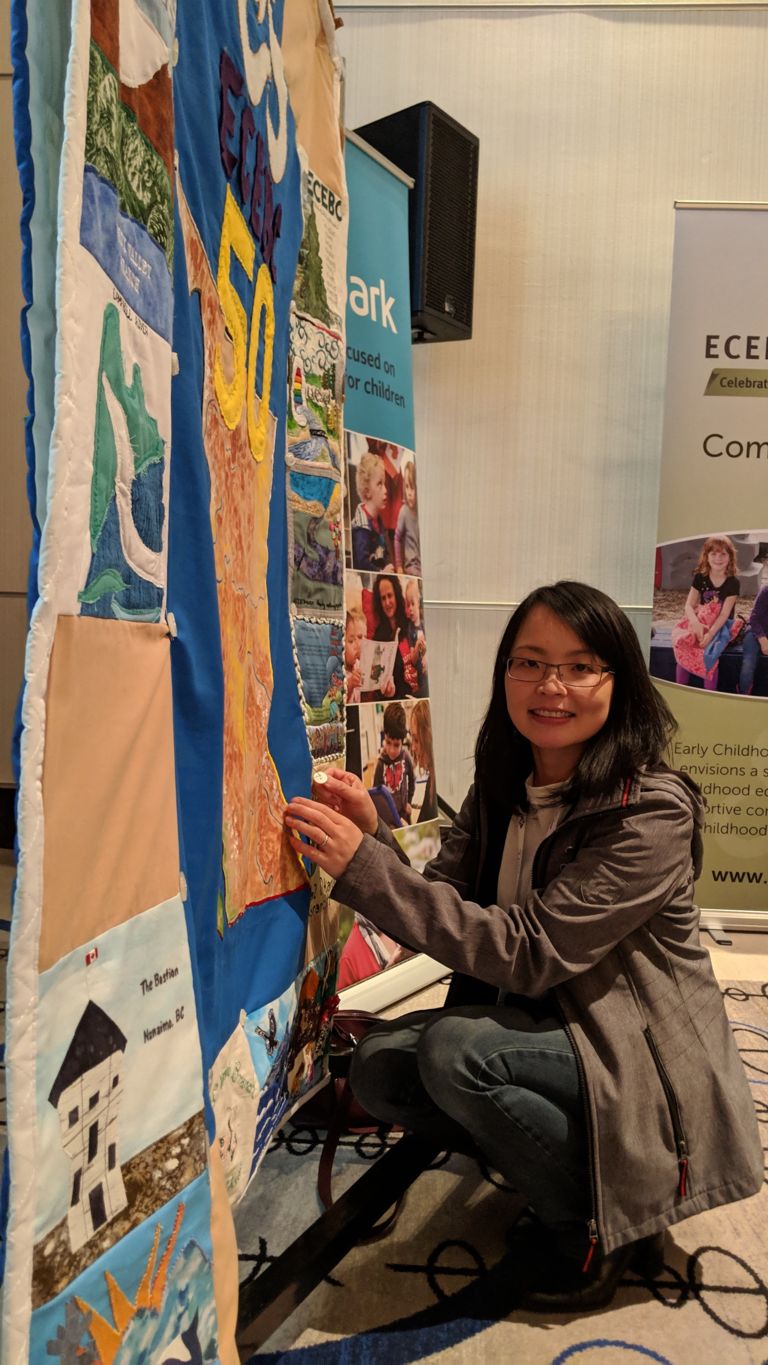 On April 25th, our Manager of Programs for Library and Training, Emily Corley, gave a presentation on 'Creating Meaningful Collections for Lending Libraries'. Emily says: "The CCRR conference was an incredible experience for me because I am new to the Early Childhood Education sector and it gave me the opportunity to meet people from CCRRs all around the province. It was very stimulating to be in a room with so many people who are genuinely passionate about the work they do. My presentation was about looking at how our library collections meet the needs of the communities we work with. It was fantastic to be able to discuss ideas with other people who are developing specialist early childhood library collections. Going to conferences is always an opportunity to make new contacts, build relationships and facilitate collaboration with otherpeople working in the sector. A highlight was the 'heartwarmer' game where teams were challenged to build a tall structure from spaghetti and marshmellows. Unfortunately, our team did not build the winning construction, but we did manage to build some connections and get to know each other! It felt good to be part of such a well-established and warm collective of people. I was the only person in the room who'd been in their job for less than one year, which is testament to the job satisfaction gained from giving children and families access to essential resources and information."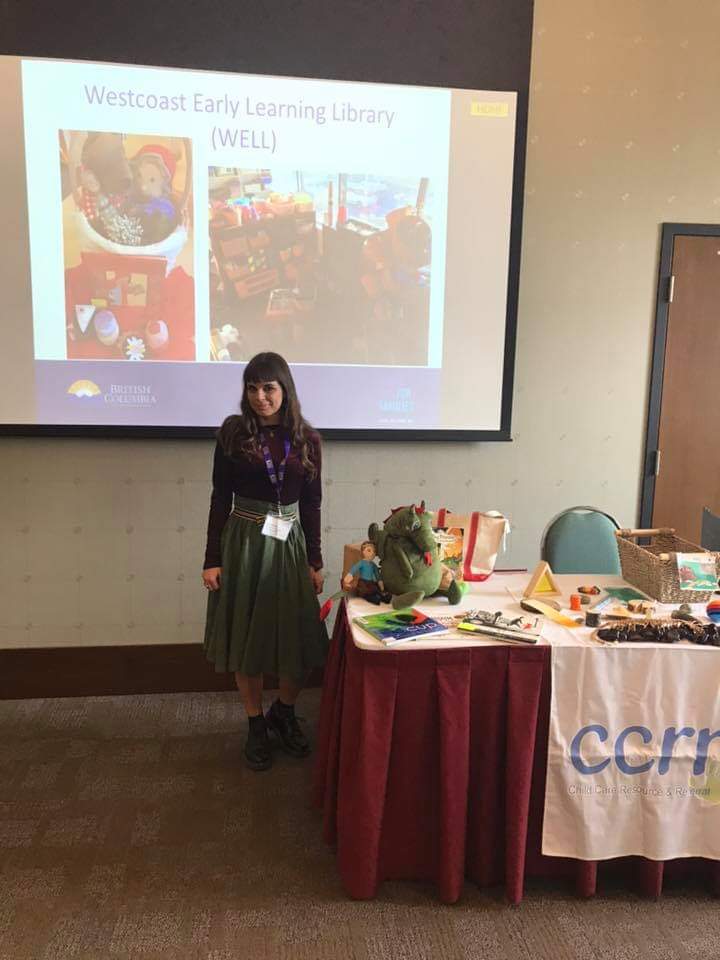 Emily Corley and Cassidy Taylor from Westcoast Early Learning Library also hosted a sharing circle entitled "Teacher Research and Narrative Inquiry in Practice" at the SPARK conference held at UBC on May 10-11, 2019. SPARK was created by graduate students from the UBC School of Education to provide ECE professionals, teachers, and instructors with a place to mingle, meet, and discuss the leading edges of Early Childhood Education research and practice. The sharing circle gave Emily and Cassidy a unique opportunity to talk with ECE professionals about how libraries like WELL can support them in their work. The circle participants were wonderful, asking good questions and providing amazing feedback. The most important take-away for Cassidy was the idea of "the teacher's journey". Every teacher needs to be met where they currently are in their own personal growth as a teacher. Cassidy was also very intrigued by the keynote speaker, Dr. Veronica Pacini-Ketchabaw, and her study of the use of materials to facilitate children's learning. Dr. Pancini-Ketchabaw has created with the help of a team of ECE teachers an entire "synthetic classroom" where all materials provided for the children were recycled and re-purposed plastics. She went even further by investigating the use of plastics in a holistic manner, describing them as "natural" in the sense they are currently a natural part of our human environment and ascribing attributes like malleable, tough, and transmutable. Her presentation was beautiful and immensely thought provoking about how we (and children) perceive and interact with our world. And if the idea of plastic in the classroom is not your thing, Dr. Pacini-Ketchabaw offers other "Encounters with Materials" that are equally as inspiring. Emily and Cassidy are eager to take what they have learned from their conversations and interactions at SPARK and incorporate it into our own practices at W.E.L.L.