ECE Professional Development Bursary Fund Report
During 2020-2021 we relied on educators' dedication to sustain safe and joyful spaces for children despite ever-changing safety protocols brought about by the pandemic. Educators continued to seek support for professional development throughout unpredictable circumstances to discover deeper connections, new ideas, perspectives, and questions. This report reveals that financial support for educators to engage in professional learning significantly impacts them both personally and professionally. The voices of educators expressed in this report illustrate that they are committed to sustaining their curiosity and willingness to wonder even during challenging times.
What is the ECE Professional Development Bursary Fund?

The ECE Professional Development Bursary Fund (Bursary Fund) is an initiative in partnership with the Ministry of Children and Family Development, the Government of Canada, and Westcoast Child Care Resource Centre (WCCRC), the agency responsible for administering the funds. This funding is part of the Early Learning and Child Care Agreement with the Government of Canada.

The objectives of the Bursary Fund were to:
Improve access to training for early childhood educators and child care providers living in rural and remote communities.
Improve access to training for Indigenous populations of people living in British Columbia.
Build capacity in the field by reducing the financial barriers for early childhood educators and childcare providers in accessing high-quality training opportunities.
What was funded?
Bursary funds were allocated to individual educators and non-profit agencies for the following purposes:
For Individuals
Educators applied online individually to request bursary funds. After attending the training, these individuals submitted a reflection form and expense statement for their expenses to be reimbursed.
Conferences and Workshops
Regional agencies received bursary funds to reduce their event registration costs by as much as 80%.
Communities of Practice (CoPs)*
Twenty-one non-profit agencies organized twenty-five CoPs for educators to engage in ongoing conversations and deeper reflections about identity and practice.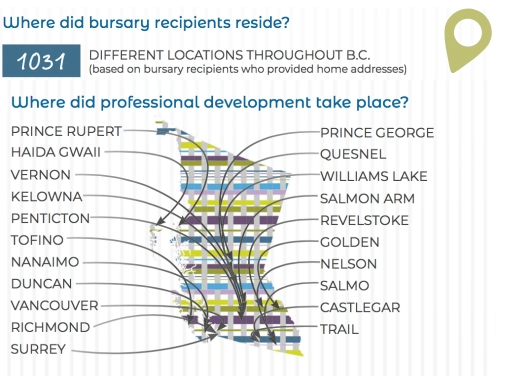 What were the outcomes?
The ECE Professional Development Bursary Project was established to build capacity among educators and to improve their access to professional development, especially with educators living in Indigenous, remote, and rural communities in British Columbia.
Demographic data and recipient feedback show that 3396 educators living in 1031 identified locations throughout B.C. received financial support to participate in professional development. Capacity-building among educators was realized by adopting a collaborative planning approach that involved
bursary applicants, regional agencies and other professionals to co-construct plans and evaluate outcomes.